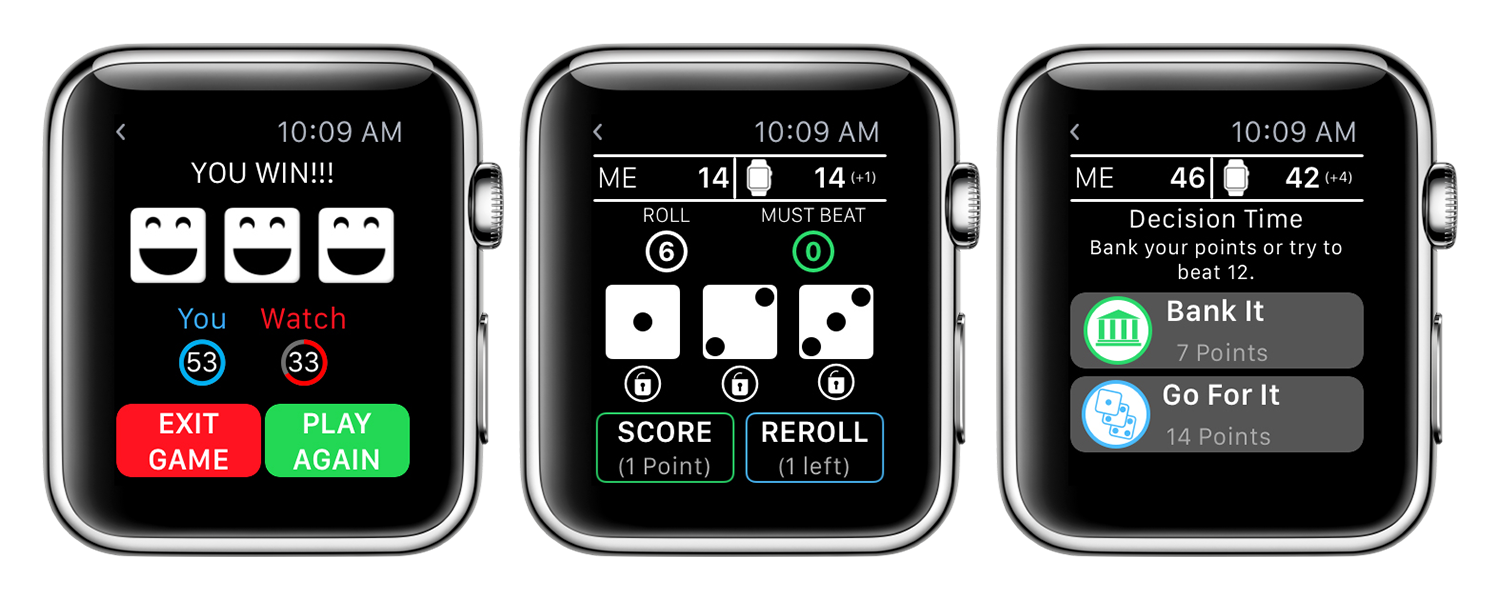 04/21/2015
One More Roll, the fast and quick push-your-luck dice game for iPhone, is now available for Apple Watch.
About One More Roll
One More Roll is a free game available for iPhone. The gameplay in One More Roll is simple, yet surprisingly engaging and addictive. Players roll three dice and then see if they can roll a total higher. The more times they can do this in a single turn, the more points they earn. However, if they fail to roll higher than their last total, they'll bust and lose all their points. As turns start becoming worth more points, the tension between deciding to bank their points or "Go for It" gets higher and higher. Thanks to a dice-locking mechanic, there's an element of strategy and playing the odds.
Dave Coleson, host of the popular gaming podcast The Spiel, said of One More Roll: "It is a fun new twist from what I've experienced in the genre. Not just brainless rolling – fun decisions based on odds." One More Roll was featured on The Spiel Episode 209: https://overcast.fm/+KwRDsFac/07:21
One More Roll was also picked as one of RayWenderlich.com Reader's Apps for April 2015: "One More Roll is an addictive, fast moving game all about pushing your own luck. … (The game) is definitely addictive. And with three game modes it will certainly stay that way. You can play against friends locally and remotely with GameCenter."
Translating One More Roll to Apple Watch
Because the gameplay of One More Roll is so simple, the team at Spinning Plate Games felt like it was a natural fit for Apple Watch. The same engaging mechanics of the iPhone version are in One More Roll: Watch Edition, but the game has been optimized for playing short sessions on your wrist. The winning score of the Watch version was changed to 50 points to support quicker game sessions, and a new continue feature was implemented that lets you play a game in short 5-10 second sessions if you want. One More Roll: Watch Edition has two single player game modes that pits players against the AI.
One More Roll was designed as the perfect way to kill time while waiting in line or for a table at a restaurant. It was actually created as a way to kill time while in line at Disney World. (http://guide2wdw.com/one-more-roll-the-game-we-made-because-we-were-tired-of-getting-bored-in-line-at-disney-world/). With the Apple Watch version, One More Roll is now perfect for killing time ranging anywhere from 15 seconds to 15 minutes.
How To Get One More Roll for iPhone and Apple Watch
One More Roll is available for free on the App Store. One More Roll: Watch Edition starts at $10,000 is included for free with the iPhone app. Version 1.2, released as a free update on 4/21/2015, includes support for Apple Watch.
https://itunes.apple.com/us/app/one-more-roll/id900529726?mt=8
About Spinning Plate Games
Spinning Plate Games is a family-run indie game studio making fun casual games for iOS. Brothers Jim and David Grosch handle the coding, while Jim's son James designs the sound and graphics. One More Roll is their first iOS game. Back in the 90's, Jim and David created the PC game company Magicode, maker of Family Card Games and Ultimate Cards. Jim is also co-creator of the website Fun Office Pools, a popular office pool website for both sports and reality TV.
Additional Resources
One More Roll – Apple Watch Screenshots
One More Roll – iPhone Screenshots